SAiON-EM® BIO-SOAP
Bio-Soap is a unique combination of best traditional natural soap with extract from natural effective microorganisms enriched with probiotic cultivated by modern scientific method.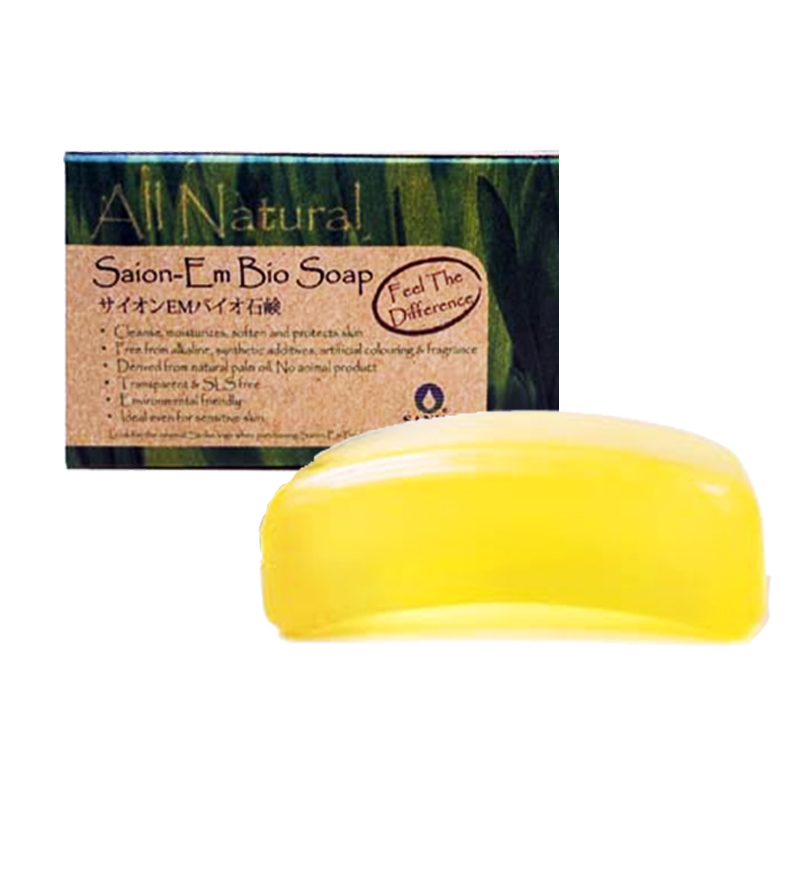 Product Details
SAiON-EM® Bio-Soap is derived from the saponification of best refined natural palm oils with all the natural goodness of Vitamin E and glycerin. It is extra mild, moisturizing, skin protecting and has effective cleansing property. This soap undergoes a long natural process to ensure good transparency and durability. It has no excess alkali that can cause skin irritation and sensitivity. The high content of glycerin in soap ensures superb moisturizing effect. Coupled with the extract from the cultured effective microorganisms, which enhances the superb cleansing property in controlling any excessive skin sebum by its natural enzymes together with the Vitamin E in palm oils, it provides rich probiotic to nourish and vitalize the skin.  As a result of this synergistic combination, SAiON-EM® Bio-Soap provides a beneficial and healthy wash to improve skin complexion together with a very clean, comfortable and satisfying after- wash feeling.
Ingredients:
Aqua (water), EMzyme, Fermented Extract of Papaya, Fermented Extract of Seaweed, Fermented Extract of Ginseng, Fermented Extract of Turmeric, Fermented Extract of Rice Bran, Olive Oil, Sodium Palmate, Glycerin, Sorbitol, Sucrose, PropyleneGlycol, TetrasodiumEDTA, Sodium Citrate.
(Free from synthetic additives, preservatives and genetically modified organisms)
Directions :
Wash face thoroughly with SAiON-EM® BIO FACIAL BAR SOAP and rinse with clean water.